Dangerous road in india
India consist of largest road network in the world, but side by side it also have one of the most dangerous roads network which is also a great adventure while travelling .We have some of the deadliest roads in the world  & it's like walking on the tightrope. While travelling on these roads network, one is required with lots of patience. Apart from the geographical constraints , some of roads are not well maintained & the same may can also kill someone. Medals should be given to whose drivers who drive on these deadliest road daily .
Top dangerous roads in India  
1.Zoji La Pass
Zoji La Pass connect ladakh and Kashmir it is located on Indian National highway 1 between Srinagar and Leh in western section of Himalayan ranges. This pass is only 9 km long ,the blink of the eye could land vehicle down up to 11,000 feet.This pass is open only for six month in an year and rest six  months it witnesses heavy snowfall during winters.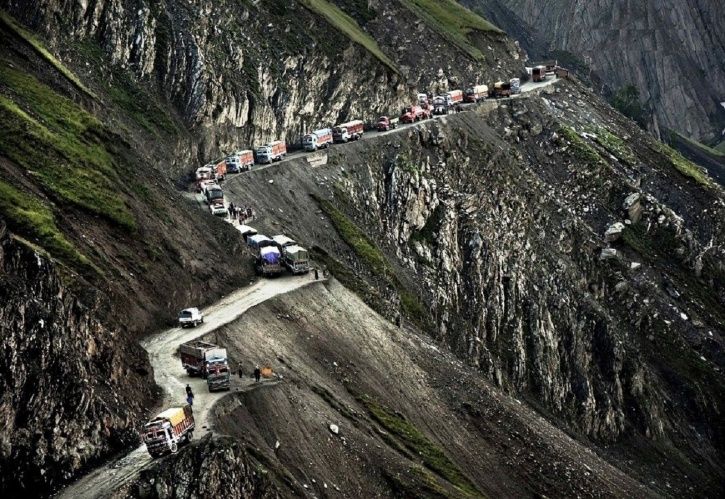 2. National Highway 22
This National highway 22 also considered to be the deadliest highway in India .This highway is 459 Km long starting from Ambala and passes from Haryana and Himachal Pradesh . It consist of dangerous cliffs, dangerous turn and tunnels. It is also Known as Hindustan -Tibet Road .
 3.Khardung La Pass
Its is the highest motorable road in world located at an elevation of 17,582ft. Khardung la pass is one off the most important pass strategically,as it is used to carry supplies to Siachen Glacier .Indian army use this pass on regular basis to supply its material .This pass is very painful, slippery, narrow trail  one worry small turn you are gone in a deep valley .
4.Rohtang Pass
Rohtang Pass is located at an elevation of 13,054 above the sea level ,on the eastern Pir Panjal Range of the himalayas .The pass is known by Leh and manali Highways .This pass is functional only for few months in a year & rest it experiences heavy snowfall. This pass is located about 53 km from Manali, it connects Kullu valley to leh. Its is only open from May to November and rest of the months it is no man zone land. Slimy gravel, Massive sludge, sudden landslides on this route are known to cause jams lasting as long as 12 hours or more. Moreover, the uncontrolled melting snow is known to cause 100 percent fatal accidents.While travelling on this pass there comes a point that only one vehicle can pass at one time.
5 Nathu La Pass
Nathu la pass is located on the border of India and China. This pass is very important in terms of trade link,as it connect each other. While travelling on this pass it gives the lifetime adventure and horrifying experience both at a same time. The access to pass is not easy because of too much snow .
Conclusion :
People who are interested in doing adventures trips should go on these passes . It will be the lifetime experience adventure full of horror.While traveling on these pass one should be well aware about safety procedure which is to followed strictly. There are some points on these passes where there are no communication network & one should be well aware and the same should be communicated among the near or dear's one before travelling on this pass so that they are aware where there loved ones are going .