SACHIN TENDULKAR CARS COLLECTION IMAGES AND LIST
Sachin Tendulkar ,a man who is worship for is powers in field of cricket .Some of us will be glad to know about his car collections. When it comes to cars, Sachin Tendulkar's garage has had some unique additions.What's more interesting is that Sachin still owns his very first car – A red Maruti 800 (SS80). Sachin Tendulkar, being the brand ambassador of BMW India, has owned almost all the latest models from the brand. He has had some limited edition BMW models too.
SACHIN TENDULKAR CARS COLLECTIONS

Maruti 800 (SS80)
Maruti 800 (SS80) Although being the cheapest, it is the most important car in Tendulkar's garage. A red first-generation Maruti 800 was Sachin's very first car. Back then, owning a car wasn't as wasn't as it is today. The little blaster had struggled a lot to get his hands on India's first hatchback. Sachin stills keeps the car and we respect him a lot for that.
Fiat Palio
The Palio was gifted to Sachin Tendulkar by Fiat during the early 2000s. He was the brand ambassador for the company back then. Sachin had also launched a limited-edition Fiat Palio S10 (Sachin Tendulkar); one of the very first hot hatches in India. The car was limited to just 500 units.
Ferrari 360 Modena
Ferrari 360 Modena Also called the Ferrari 360M, the car was personally handed over to Sachin by Schumacher himself. Sachin does not own the car anymore since the car was sold away sometime back to a business man. The car made lot of news when Sachin had it.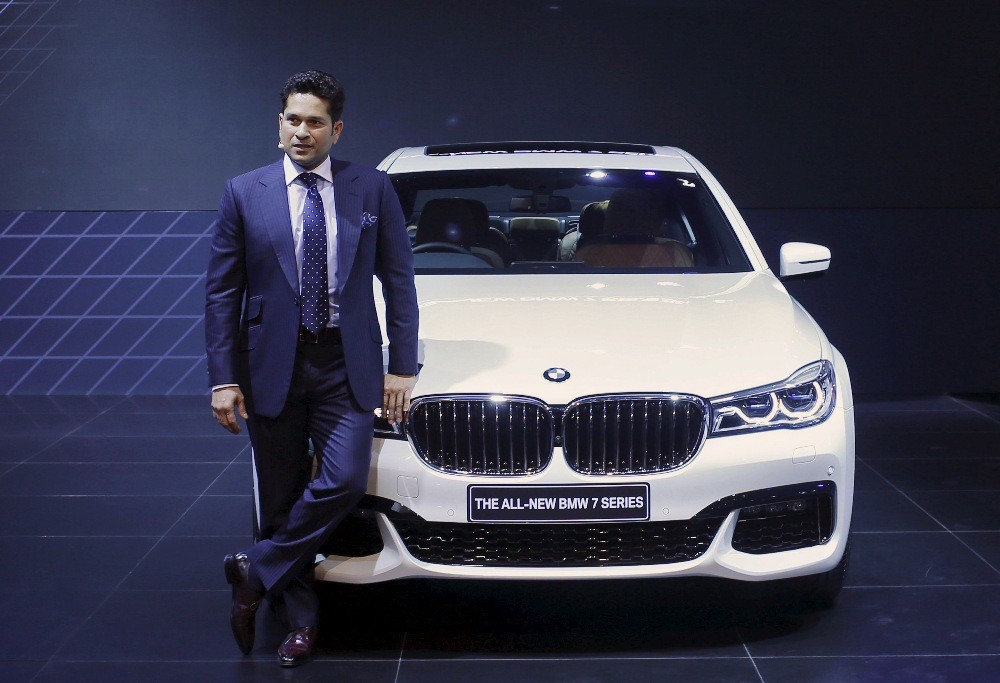 BMW 7 Series
BMW 7 Series Sachin owns BMW's flagship luxury sedan, the BMW 7 Series. He owns the 760Li, which is powered by a 6.0-litre V12 engine that produces 544bhp and 750 Nm torque. The car has an 'Individual' package, specially customised for Sachin.The retailing price of the BMW 7 Series in India is Rs. 1.95 crore.
BMW X5M
BMW X5M Very few own SUVs that have been performance tuned in India, and Sachin happens to be one of them. He owns a BMW X5 thathas been given a performance touch by the 'M' division. The X5M produces 381bhp and 740 Nm torque with its 3.0 litre 6-cylinder turbocharged engine, and can accelerate from 0 to 100km/h in 5.3 seconds. That's fast for an SUV! Tendulkar, according to a few sources, was asked to replace his Audi Q7 with the BMW X5M when he signed up as the company's brand ambassador. The X5M retails for Rs. 1.55 crore in India.
BMW M6 Gran Coupe
BMW M6 Gran Coupe The retired Indian cricketer also owns an M6 Gran Coupe that is finished in a rare 'Frozen Silver' shade that is not available in the Indian market. Tendulkar's car was the first M6 Gran Coupe delivered in India, and powering the car is a 560bhp V8 engine that develops 680 Nm of torque.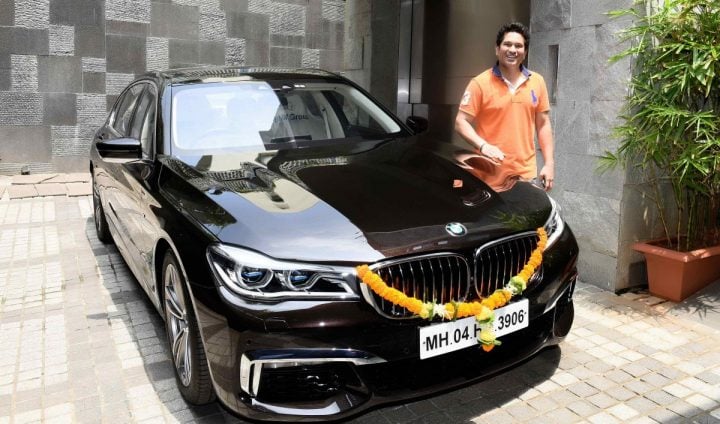 BMW M5
BMW M5 Not just a normal M5, what Sachin owns is a limited edition '30 Jahre M5′, which only 300 units were built to celebrate 30 years of the BMW M5. Only one car is in India, and that is the matte grey car owned by Sachin. The car is powered by a twin turbocharged V8 that produces 600bhp and 700 Nm of torque, that helps the accelerate from 0 to 100km/h in 3.9 seconds.

BMW i8
BMW i8 Sachin was the one who launched the hybrid car in India for BMW. The car is powered by a 1.5-litre, 3-cylinder engine, but with the help of electric motors, the i8 car produces 357bhp and 570Nm of torque. He has also painted the originally white i8 into a gorgeous red.
Nissan GT-R Egoist
The GT-R owned by Sachin is not just a normal version. It is the Nissan GT-R Egoist. With the 3.8-litre V6, and the twin turbos, the car accelerates from 0 to 100km/h in 2.9 seconds and the engine develops 545bhp. Sachin's car is fitted with a body kit that makes his car stand out from the rest.
Sachin tendulkar has a good taste in automobiles ,he never compromises on safety even if he is going fast .There are many incidents in which Sachin tendulkar have been seen telling people on road to wear helmets and seat belts .